Products & Services

Working Well with Corporations & Small Groups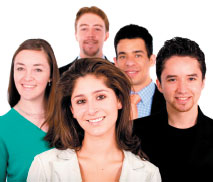 I have contributed to employee health and training programs for companies in and around Austin for over 10 years.
Health and wellness seminars are now an important part of human resource programs because companies recognize that employee health is a key ingredient of any successful enterprise. Now through the expert skills of a leading doctor-referred hypnotherapist, Aisha Kessler, the incredibly effective tool of hypnosis can be brought into your company or small group.
Experiencing hypnosis in a group setting can increase individual success rates because lifestyle changes are contagious! Being around people who are losing weight, makes you want to lose weight too. Success is sweeter when it's shared with others. And organizing a wellness hypnosis program for your company, co-workers or other group is a great way to invest in health, pay lower insurance premiums and save money with group hypnosis discount packages.
Hypnosis for corporations is spreading in popularity because more people are discovering just how effective it is for healthy lifestyle changes. The Wall Street Journal reports that, "Hypnosis is increasingly being used for helping people lose weight, stop smoking, or even perform better in athletics or academic tests."
Investing in improved employee health and wellness can:
Ιncrease your bottom line
Εnhance productivity
Improve morale
Reduce absenteeism
Lower medical claims
Reduce stress
Create a smooth workflow
Increase recruitment, retention and loyalty
In fact, employee health investments have been solidly proven to directly increase the bottom line! Now that's a win-win prospect: you win and your employees win.
"For every $1 spent on wellness programs, employers can expect a return of $2.30 to $10.10 through lower medical claims, reduced absenteeism, improved productivity and other factors." — American Journal of Health Promotions
Proven and popular group hypnosis programs include:
Smoking cessation
Weight loss
Stress management
On-site safety mindfulness
Sales Motivation
Industry-specific programs (efficiency, anger, diversity, change management)
Aisha Kessler is a dynamic, motivational speaker who uses hypnosis as her primary tool for the transformation of her clients. She conducts quality, results-oriented seminars that help people "train their brain" towards success and wellness. She has hosted Health Fairs, Sales Success Seminars and many Corporate Wellness Programs for weight Loss, smoking cessation and stress management. Many seminar attendees leave with absolutely phenomenal results. With over 20 years experience she is ready to work with your company to design a successful hypnosis program that fits your needs and budget. Let me know how we I can serve you!

The CEO of E-MDs
"I would like to extend my sincere thanks and appreciation for the hypnosis sessions you have conducted at e-MDs. Employees that participated in stop smoking and weight loss were all very complimentary of your skills and professionalism and all of them are having success; some of them phenomenal success." — David Winn, M.D., CEO of e-MDs
"Thank you for your presentation, Hypnosis for Success, for the Association of Professionals in Student Affairs (APSA) Conference. Thank you for helping to make this the best conference ever." - Leigh Sebera, Chair of APSA at the University of Texas
Our Corporate Clients
Sun Microsystems
Texas Property and Casualty Insurance Guaranty Association
e-MDS
University of Texas
Alex Sheshunoff Bank Management Services
Round Rock Orthotics
AISD
Johnny Carinos Country Italian Restaurant Headquarters
Norwalk Sofa and Chair
Halbert Wealth Management
Please contact Wellspring Hypnosis LLC to arrange for our Clinical Hypnotist,
Aisha Kessler, to give an on-site seminar or workshop at your organization.
(512) 466 - 6655