Products & Services

Hypnosis & Coaching - By Appointment
5706 Shoalwood Ave., Austin Texas 78756
Call me (512) 466-6655 to schedule your appointment!
Professional appointments are available in my Austin, Texas hypnotherapy office by appointment. Click here for office location and map. By appointment only.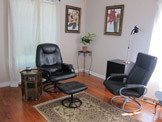 Discounted couple and group sessions are also available. Bring a friend and save money!
Hypnotherapy by Phone is an option for those who live at a distance. I regularly work with people in other Texas cities and in other states.

AISHA LISA KESSLER, BA C.HT. NLP
National Guild of Hypnotists Faculty Member
Board Certified Clinical Hypnotist
American Board of Hypnotherapy
University of Texas Informal Classes Instructor
NLP Expert Practitioner
Dharma Yoga Teacher
Hypnobirthing® Educator
Licensed Massage Therapist
Frequently Asked Questions
When is hypnosis appropriate?
When you feel stuck and willpower alone has not solved your problem despite a desire to make the change, that's when a Wellspring Hypnosis session can really work wonders to get you unstuck. It's appropriate for many personal enhancements. See the list at the right side of this page for specific solutions.
How long is a private session?
Your first session will be at least an hour. This session will include an intake interview and your first hypnosis session. Subsequent sessions will consist of calibrating and fine tuning your progress and responsiveness to the program. Subsequent sessions are usually less than one hour long. They include coaching and hypnosis.
How many sessions will it take?
That depends on the individual and the issue. Some issues get resolved in just one session, but I always prefer to do two sessions so that we can fine-tune the solution and make it last. In general, smokers can become non-smokers in two sessions. My hypnosis weight loss program gets good results in three sessions. Some people continue weight loss support after the first three sessions.
How far apart are the sessions?
For the first two or three sessions, one week to ten days apart is ideal. For smokers, one week or less is best. For people continuing with me for additional support, sessions can be spaced out as much as one month. Some people come in for quarterly "tune-ups."
What are your rates?
A single in-office hypnosis session is $110. Pre-pay discounts for multiple sessions may be available. There are also discounts for groups and some of my programs like weight loss and smoking cessation have special rates. Hypnosis by Phone has special rates. Smoking cessation has special rates.
Do you work on the weekends?
No. Although I sometimes make exceptions for groups or corporations.
Are the results guaranteed?
No one can guarantee your future behavior, not even you! Much of your success depends on your motivation and your ability and willingness to follow the instructions given to you. I cannot guarantee your behavior, I can only help you leverage it in the right direction. I absolutely guarantee that I will do my best to create a workable solution with you. I ask you to follow the program instructions and make the commitment to work with the program. That is the formula for success! Refunds are available for products, not for services, once they are rendered.
Is there a cancellation fee if I forget an appointment?
Yes. Appointments missed or cancelled within 24 hours are charged a $50.00 fee. I am usually booked one week in advance and I cannot fill slots on such short notice. Please be considerate and consult a calendar to remember your appointments and leave early to factor in traffic.
Can I get a recording of my session?
Yes. Let me know you want a recording and we'll do it. Some programs like Hypnosis for Stress, Weight Loss and Smoking Cessation, include a pre-made CD. And for a small fee you can walk out with an additional custom hypnosis CD of your session for future use. Hypnosis issues that do not have a pre-made CDs, include a custom CD at no charge. For example, if you come in for a fear of spiders, you will get a custom CD of the session because I don't have a pre-made CD on that issue.
Do you offer any additional support tools?
Yes. Besides custom CDs, I also offer a wide range of professionally produced hypnosis CDs and hypnosis audio downloads as well as other support tools like the herb, Rhodiola rosea extract. See the product page for the current support tools. I offer timed motivational tips and tricks via email for some issues to help you stay on track with your goals over the months following our work together.
How can I learn about your future classes and programs?
Sign up for my newsletter on the sidebar! This e-newsletter is always packed with self-improvement tips, hypnosis news, the most up-to-date information about my seminars, new products and exclusive free hypnosis audio downloads.